Liebe Gäste,
Bei der Anreise ist ein gültiges negatives Testergebnis, ein Impfzertifikat oder die Bestätigung einer durchgemachten Corona Erkrankung vorzuweisen. Ein Check-in ohne eines dieser drei Kriterien ist NICHT möglich. Beachten Sie hier die unterschiedlichen Gültigkeiten.
Zutrittstests sind bei uns in Form von Antigentests (48h) und PCR Tests (72h) gültig. 

Am Anreisetag ist kein Test vor Ort möglich. Der Zutrittstest muss bitte selbst organisiert werden.  

INFO: Im Kultursaal Obervellach, 100m von der Pension entfernt, gibt es eine Teststraße, bei der Corona-Antigentestungen durchgeführt werden. Anmeldung unter: oesterreich-testet.at (Achtung: die Teststraße ist nur Montag - Freitag geöffnet!)
Personen die eine Corona Erkrankung überstanden haben, sind ein halbes Jahr nach der Genesung von der Testpflicht befreit - hierfür ist eine ärztliche, molekularbiologische (PCR) Bestätigung notwendig. 
Als Befreiung gilt auch ein Nachweis über neutralisierende Antikörper, der nicht älter als 3 Monate sein darf. 
Geimpfte Menschen können von der Testpflicht ausgenommen werden - dies gilt für Erstimfpungen ab dem 22. Tag nach der Erstimpfung, wobei diese nicht länger als 3 Monate zurückliegen darf oder für Zweitimpfungen, wobei diese nicht länger als 9 Monate zurückliegen dürfen.
Kinder bis zum vollendeten 10. Lebensjahr sind von der Testverpflichtung ausgenommen. 
Es besteht FFP2 Masken-Pflicht für Gäste (außer während des Frühstücks).
Weitere Lockerungen sind im Juli 2021 geplant.
Weitere Infos zu den aktuellen Einreisebestimmungen finden sie hier
Für weitere Informationen und Fragen stehen wir Ihnen natürlich gerne zur Verfügung.
Have a safe trip and enjoy your stay with us!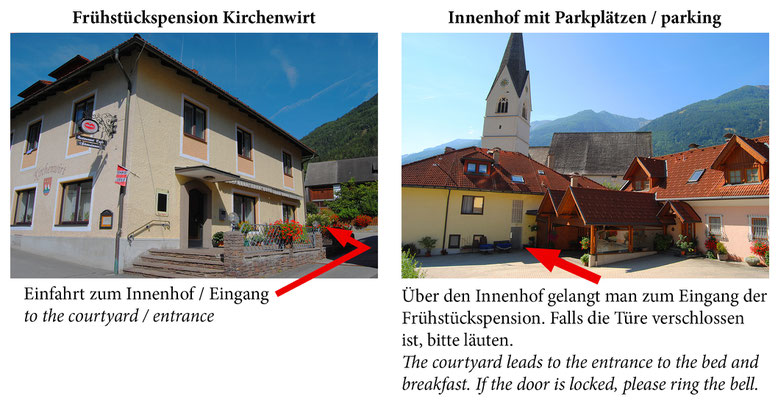 In order to make your arrival as pleasant as possible, we would be grateful if you let us know when you will be arriving.
By car
From Spittal / Drau or Winklern via the Mölltal main road (B106).
Coming from Salzburg with the ÖBB car transfer train from Böckstein to Mallnitz. From here by car via the Mallnitz-Bundesstraße (B105) to Obervellach.
Parking spaces are available directly at the accommodation in the spacious courtyard.
By bike
The Ciclovia Alpe Adria Radweg reaches Carinthia, coming from Salzburg, with the ÖBB car transfer train from Böckstein to Mallnitz. This is where the enjoyable, largely downhill stage starts through the Lower Mölltal. The route initially follows the federal road from Mallnitz to Obervellach for about 8 km.
Before you continue on the Glockner Radweg (R8) to Möllbrücke, you can gather strength with us and fortify yourself with a hearty breakfast. From Möllbrücke the Alpe-Adria Radweg runs along the famous Drauttal Radweg, THE cycling flagship of Carinthia.
Another option is to ride the Glockner Radweg (R8) in the Upper Mölltal!
Use the bike bus from Obervellach to Heiligenblut and experience a delightful bike day in the National Park region!
Secure and covered parking spaces for your bicycles are available.
By train and bus
On the Alpe-Adria-Trail
Obervellach is located directly on the Alpe Adria Trail and is reached at the end of stage 7 after crossing the Groppenstein gorge. Before you continue with stage 8 towards Danielsberg, you can gather strength with us and fortify yourself for the next stage with a wonderful breakfast.
The pension is located in the center of Obervellach and is the ideal starting point for stage 8 of the Alpe Adria Trail.