Dear guests,
We are sure that you are familiar with the five basic rules of keeping your distance, washing and disinfecting your hands regularly, wearing a mask that covers your mouth and nose (we kindly ask you to bring your own mask wherever possible), not touching your face and sneezing/coughing into the crook of your arm. Just to make sure, we have prepared a separate information leaflet for you.
If you feel unwell before travelling or suspect that you might be getting sick, please reconsider your travel plans for your own protection and for that of other people and come to stay with us at a later point. Don't hesitate to get in touch with us before your arrival so that we can give you some valuable tips and help you in any way we can (e.g. with online check-in before you arrive, information on arrival times, cashless payment options etc.) .
We are at your disposal for any questions you may have.
Have a safe trip and enjoy your stay with us!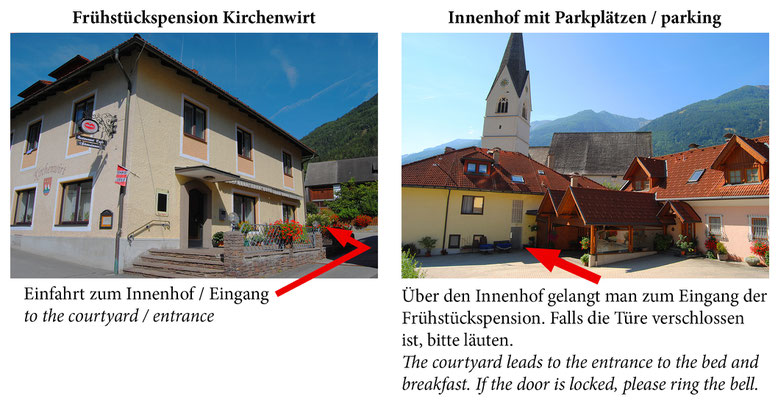 In order to make your arrival as pleasant as possible, we would be grateful if you let us know when you will be arriving.
By car
From Spittal / Drau or Winklern via the Mölltal main road (B106).
Coming from Salzburg with the ÖBB car transfer train from Böckstein to Mallnitz. From here by car via the Mallnitz-Bundesstraße (B105) to Obervellach.
Parking spaces are available directly at the accommodation in the spacious courtyard.
By bike
The Ciclovia Alpe Adria Radweg reaches Carinthia, coming from Salzburg, with the ÖBB car transfer train from Böckstein to Mallnitz. This is where the enjoyable, largely downhill stage starts through the Lower Mölltal. The route initially follows the federal road from Mallnitz to Obervellach for about 8 km.
Before you continue on the Glockner Radweg (R8) to Möllbrücke, you can gather strength with us and fortify yourself with a hearty breakfast. From Möllbrücke the Alpe-Adria Radweg runs along the famous Drauttal Radweg, THE cycling flagship of Carinthia.
Another option is to ride the Glockner Radweg (R8) in the Upper Mölltal!
Use the bike bus from Obervellach to Heiligenblut and experience a delightful bike day in the National Park region!
Secure and covered parking spaces for your bicycles are available.
By train and bus
On the Alpe-Adria-Trail
Obervellach is located directly on the Alpe Adria Trail and is reached at the end of stage 7 after crossing the Groppenstein gorge. Before you continue with stage 8 towards Danielsberg, you can gather strength with us and fortify yourself for the next stage with a wonderful breakfast.
The pension is located in the center of Obervellach and is the ideal starting point for stage 8 of the Alpe Adria Trail.